март, 2017
now browsing by month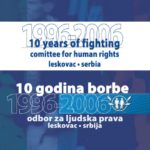 Leskovac, mart 2016. godine
GODISNJI IZVESTAJ ODBORA ZA LJUDSKA PRAVA U LESKOVCU O STANJU LJUDSKIH PRAVA NA TERITORIJI GRADA LESKOVCA I JABLANICKOG OKRUGA,SA ASPEKTA DEKLARACIJE GENERALNE SKUPSTINE UN O LJUDSKIM PRAVIMA I RADU ODBORA NA AFIRMACIJI I ZASTITI TIH PRAVA U 2015.GODINI.
U toku 2015.godine Odboru se za pravnu pomoc I pravne savete obratilo 3990 korisnika , dolaskom u nase prostorije, telefonom ili putem elektronske poste.
Nacionalna struktura korisnika je najvecim delom srpske nacionalnosti, albanske, romske I dva arapske nacionalnosti. Pravne savete iz nase delatnosti pruzili smo za 3331 nasih korisnika.
Najveci broj trazioca pravne pomoci, ili njih 2781, su iz clana 23 Deklaracije UN a tice se prava na rad I zadovoljavajuce uslove rada.
Iz clana 5 Deklaracije UN o zabrani mucenja, svirepog ili necovecnog I ponizavajuceg postupanja I kaznjavanja imali smo 31 slucaj,I svi su slucajevi sa teritorije republike Srbije a samo 2 iz naseg okruga.
Iz clana 10 Deklaracije, pravo na pravicno sudjenje u razumnom roku, bilo je 131 slucajeva.
Iz clana 17 Deklaracije, pravo na imovinu I zabrana samovoljnog lisenja imovine, bilo je 58 slucajeva.
Iz clana 7 Deklaracije, pravo na pravicno sudjenje pred nezavisnim I nepristrasnim sudom, bilo je 186 slucajeva.
Iz clana 3 Deklaracije, pravo na zivot,slobodu I licnu bezbednost, bilo je 33 slucaja.
Iz clana 1 Deklaracije, pravo na postovanje ljudskog dostojanstva, bilo je 111 slucaja.
Dali smo preko 3000 pravnih saveta I upustava za postupanja pred sudovima na teritoriji Repubilke Srbije koji ne ulaze u ovu evidenciju, zbog prevelikog broja korisnika a malog broja nasih saradnika.
U okviru izvestajnog perioda I broja korisnika napisali smo 72 tuzbe raznim sudovima, 125 zalbi na razne odluke sudova, 51 Prituzbu po clanu 34 Povelje o ljudskim I manjinskim pravima Republike Srbije, iz clana 48 Ustava RS na nerad I neefikasan rad sudova 31 zalbu, 244 podnesaka raznih vrsta, 55 predloga na ponavljanje prekrsajnih I krivicnih postupaka, 5 zahteva za sprovodjenje istraga I 9 predstavki Medjunarodnom sudu za ljudska prava u Strazburu.
U izvestajnom period nemamo nijednu prituzbu na rad gradskih vlasti I njihovih tela ali ima 23 prituzbe na rad Republickih inspekcijskih organa.
U izvestajnom periodu grad je iz budzetske linije 481 pomogao rad Odbora sa tendencijom pruzanja pomoci I u narednom periodu.
Saradnja Odbora sa rukovodstvom grada je na zadovoljavajucem nivou I postoji visok stepen razumevanja na obostrano zadovoljstvo.
Zakoniti zastupnik Odbora,
Dobrosav Nesic
****
Leskovac,March, 2016-04-30
COMMITTEE FOR HUMAN RIGHTS – LESKOVAC'S ANNUAL REPORT ON THE CONDITION OF HUMAN RIGHTS ON THE TERRITORY OF THE TOWN OF LESKOVAC AND JABLANICA DISTRICT FROM THE ASPECT OF UN GENERAL ASSEMBLY DECLARATION ON HUMAN RIGHTS AND THE WORK OF THE COMMITTEE ON THE AFFIRMATION AND PROTECTION OF THESE RIGHTS IN 2015
3,990 users asked the Committee for human rights for legal help and advice, by coming to our office, over the phone or via email.
The national structure of the users very mainly of Serbian nationality, Albanian, Roma and two Arabs. We gave legal advice from our field of interest to 3,331 user.
The biggest number of those who asked legal help, that is 2,781, were from the article 23 of the UN Declaration, that is the right to work and have satisfying working conditions.
From the article 5, of the UN Declaration on banning torture and other cruel and inhuman and humiliating actions and punishments, we had 31 case and all the cases were from the territory of Serbia and two from our district.
From the article 10 of the UN Declaration, the right to a fair trial within reasonable time, there were 131 case.
From the article 17 of the UN Declaration, the right t property and banning of arbitrary deprivation of property, there were 58 cases.
From the article 7 of the UN Declaration, the right to a fair trial before an impartial and independent court, there were 186 cases.
From the article 3 of the UN Declaration, the right to life, freedom and personal safety, there were 33 cases.
From the article 1 of the UN Declaration, the right to respect for human dignity, there were 111 cases.
We gave over 3,000 legal advice and instructions for acting before courts on the territory of Serbia which are not part of this list, due t a large number of users and a small number of associates.
Within the reporting period and the number of users we wrote 72 lawsuits to different courts, 125 complaints to various court decisions, 51 petition according to the article 34 of the Charter on human rights and minority rights of the Republic of Serbia, from the article 48 of the Republic of Serbia Constitution against the nonworking and inefficiency of courts – 31 complaint, 244 various petitions, 55 propositions for repeating misdemeanor and criminal proceedings, 5 motions for investigations and 9 petitions to the International court on Human Rights in Strasbur.
Within the reproting period we did not receive any complaints against the local authorities apart from the complaints against the Repblic Inspection .
During the reporting period, the town of Leskovac, from the 481 budget line supported the work of the Committee and there is a tendency of further support in the upcoming period.
The cooperation with the leadership of the town is on a satisfactory level and there is a high degree of mutual understanding.
Legal representative od the Committee,
Dobrosav Nesic